Imagine living in a world where there is clean air to breathe and where climate change is no longer a threat to your future. Where fossil fuels and other natural resources are conserved rather than completely burnt out to extinction.
When we think about the future, we think about many possibilities. And among the many possibilities that can make this future a reality is the use of electric vehicles for all our mobility needs. EVs are already making waves in the global automotive industry and inspiring individuals to move toward sustainability. As they become more common among people, we can say that our future seems to be electric.
To maintain the likelihood of this future, companies need to prepare proper infrastructure specifically for EVs. We need to leverage multi-layered data and mobility intelligence throughout the EV value chain to smoothen the transition and ensure people are ready for it.
The environmental impact of EVs vs. Internal combustion engine vehicles transportation
The pollution created by ICE automobiles extends beyond the emissions from their tailpipes. Extracting oil, refining it into gasoline, and distributing it to gas stations all contribute significantly to air pollution. These are referred to as upstream emissions or well-to-wheel emissions. Even though current ICE manufacturers have reduced CO2 emissions, the production process still has a detrimental effect on the environment.
EVs are one of the most environmentally friendly modes of transportation since their full life cycle is significantly more sustainable. Driving compensates for their increased manufacturing emissions since they utilize electricity as fuel. Over its lifespan, an EV emits half the carbon emissions of a conventional car, making it far superior in terms of sustainability.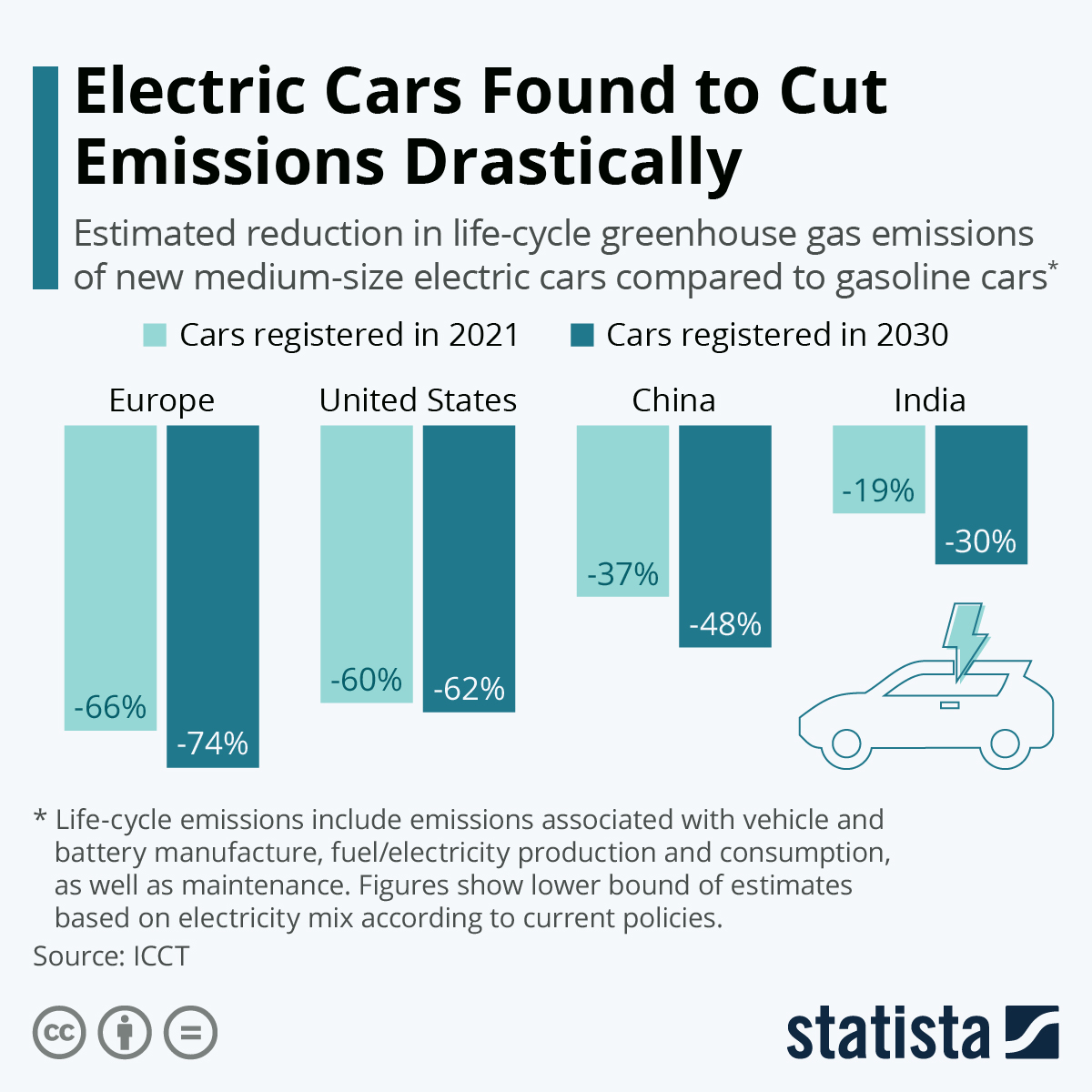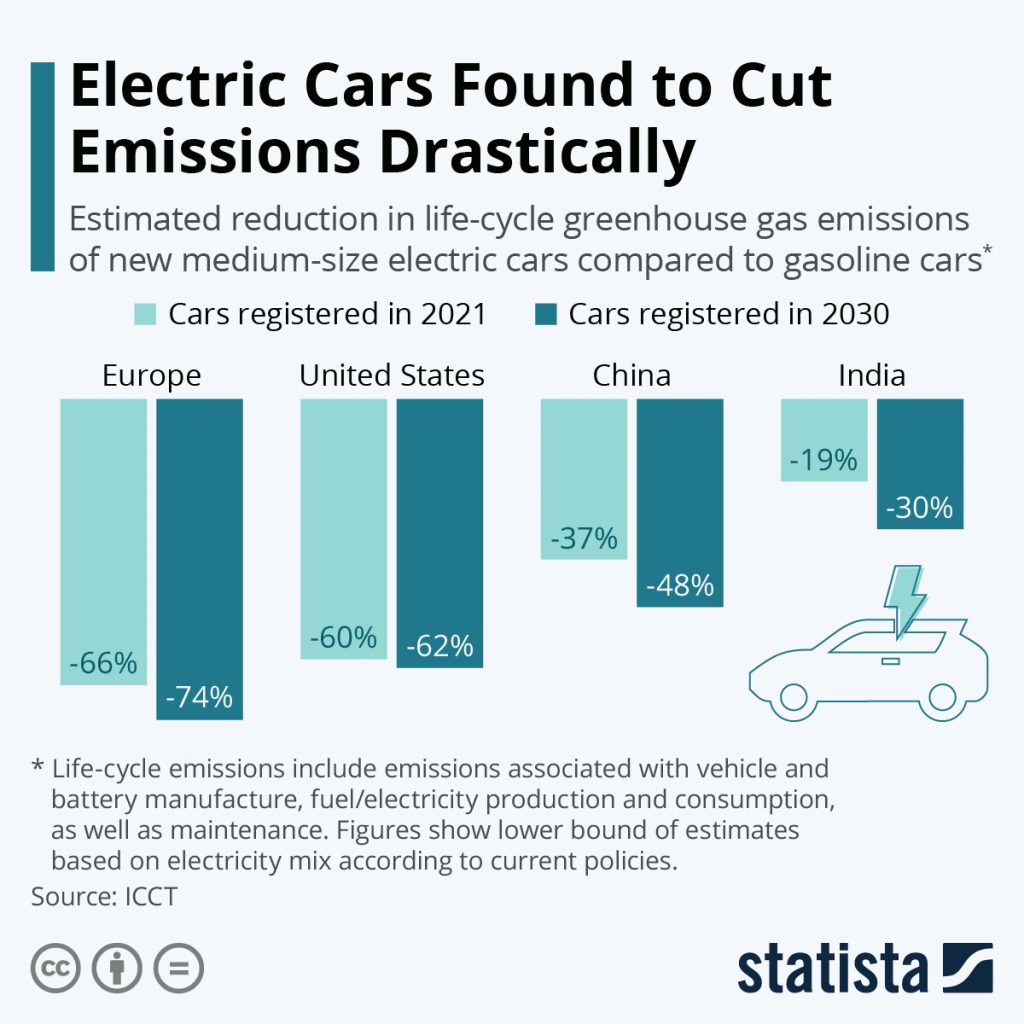 Reference: https://www.statista.com/chart/25412/life-cycle-emissions-savings-of-electric-cars/
Future of EV in India 
It is still difficult for India to develop a fully electrified environment due to high costs, underdeveloped infrastructure, and the scarcity of high-performance electric vehicles. As a result, electric variations of two and four-wheelers are sometimes substantially more expensive than standard gasoline choices. This is the primary reason behind the sluggish adoption of electric vehicles.
If we talk about the future of electric vehicles in India, over 60% of people feel that EVs are out of their price range.
To convert more people into electric vehicle owners, the government offers incentives for the purchase of electric vehicles. People who buy battery-powered cars on credit are also eligible for a Rs 1.5 lakh tax break. The GST on electric vehicles is fixed at 5% with no cess.
In order to focus more on the future, EV makers should collaborate with the government to develop products and features that would appeal to Indian automobile consumers. Aside from that, they should make EVs a better alternative to ICE vehicles. In order to achieve this goal, location intelligence is the best solution.
How Location Intelligence is Impacting the Future of EVs ?
Location intelligence is an interesting technology that provides unique information using geographic and geospatial data. These include: 
POI or point of interest 

Latitude and longitude

Postal Code 

Geocoding data 

Physical location

Maps 
The importance of location has expanded enormously throughout time. Today, more and more businesses see its importance in analytics, decision-making, and keeping ahead of the competition. With the pandemic disruption, its ever-increasing utility gains a new dimension.
Moreover, 5G will turbocharge location intelligence in the coming years by dramatically improving data transport speed and accuracy. This would then speed up and improve the precision of mobility analyses.
Location intelligence is critical for developing future mobility infrastructure since it enables optimal planning, whether for electric car charging or hydrogen supply. It also aids in improved planning and supply in regions impacted by demographic change.

Location intelligence for smart mobility 
With the target of gas emission reduction, the EV industry is gearing up with the ambition to achieve sustainability across nations. Moreover, to ensure the country remains green and healthy, the automobile sector is aiming toward the EV segment while leveraging location intelligence.  
Location intelligence will provide them with maps to identify population density, proximity to focal places, and segment data to guarantee that the EV station is placed accurately, along with information about road and traffic management to reduce harmful emissions from vehicles. 
Location intelligence solutions for EV industry from Lepton Software
Detail Knowledge of the environment movement:

Location intelligence can help you choose potential locations for charging points with the highest possible return on investment by identifying mobility patterns.

Territory, demographics, and population habits: Urban planning is a critical factor in site selection. It would be hard to locate suitable and available land or plots for car charging facilities. Location intelligence solutions from Lepton Software like SmartMarket and SmartData will help you with sites located in areas with suitable energy grid infrastructure.
Smart Selection:

Recommendation of EV charging infrastructure/ stations based on location, range, and car density statistics is yet another utility of location intelligence for the EV segment. Increasing charging efficiency by mapping demand (number of users) in real-time with charger type (slow or fast) and visit frequency.

Charge Load Management:

Manage demand at the charge station and decrease wait time to accommodate customers based on site capacity without overwhelming the EV chargers or the grid.

Charge Site Planning:

Gain access to precise insights that parse point-of-sale facts such as total sales, car type, driver personality, manner of payment, and much more, and prepare for future consumption.

Driver Alerts:

Real-time routine alerts simplify travel planning. Reduce drivers' range anxiety by delivering fast notifications, low battery warnings, prompts to schedule the next charge, and instructions to the nearest charging station.

Cost Savings for Fleet:

Plan ahead of time for electric fleet charge requests based on vehicle movement and consumption trends to saving money.

Optimize Energy Consumption:

Users can preserve battery charge with simple tactics and suggestions thanks to real-time insights into power usage and draining patterns, traffic volume, and trip data.
Growing fuel prices will increase other mobility options. This emphasizes the importance of superior location information for mobility services. With location intelligence, it will be easier to navigate, track cars and locations, and forecast traffic congestion.
EVs will soon take over the market, and manufacturers will continuously seek ways to automate user interactions. We think that location intelligence solutions will be critical in this era.
EVs can help you make your firm more sustainable
EVs, although a relatively new technology, will only become more advanced and sustainable. As air pollution from ICE cars becomes a bigger problem, EVs provide consumers and companies with a rational choice for a greener future with the help of location intelligence for EV. 
We provide all the data and solutions you require for a sustainable business. Automobile manufacturers can create superior electric automobiles at competitive pricing that may appear alluring to purchasers in the near future with solutions such as SmartMarket (a location intelligence solution by Lepton Software)
Need to know more? Reach out to our professionals right now.