By 2050, 68% of the world's population will live in urban areas. Not too surprising, right?

As cities' density soars high rapidly, the cellular networks slowly crawl, struggling to cope with the surging subscriber rate. 
With a combination of low-power sensors, robust wireless networks, and web and mobile-based applications, smart cities are soon coming to life with the advent of 5G. A wholly owned subsidiary of Mukesh Ambani-led Reliance Industries Ltd. (RIL) is in the news for working on a new development project, building a world-class Greenfield Smart City in Gurugram, Haryana.
However, developing a smart city requires a lot of planning and technology as the backbone. Today's governments are losing money due to inefficient operations of infrastructure and resources, for example, damaged roads, disputed constructions, disaster management, and so on. The main challenge here lies in scalability–how can a city with limited resources and staff monitor every construction site or supervise every new road? 
This is where intelligent GIS tools like 3D Maps come into the picture, providing precise and accurate information for efficient planning and development of smart cities. 3D Maps offer an updated, interactive 3D visualization of a city, correct to a millimeter.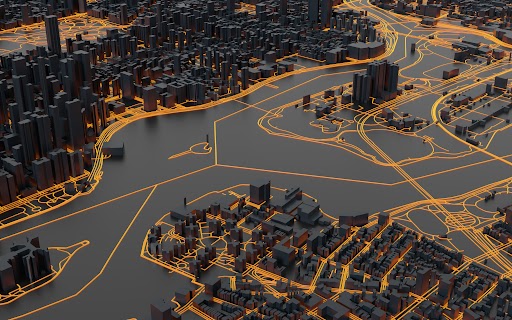 Using land optimally helps plan a more sustainable approach to smart cities and more green spaces. 
3D Maps for Smart Planning 
In the case of urban planning, smart planning does not just refer to the optimized utilization of resources like land but also the maintenance and restoration of these resources. As infrastructure ages, it becomes less reliable and more prone to infrastructure failures like traffic congestion, repeated power outages, safety hazards, etc. 
3D maps add a much-needed layer of precision to urban planning. Maps that include rich features, such as roads and building footprints with heights, volume, shape, and other details, are vital to understanding the existing infrastructure and building a new one feasibly. 
Moreover, 3D visualizations give town planners a much more realistic view of the town and simulate future scenarios, helping them plan their offerings better. These simulations can also help planners understand how these future developments will impact their surroundings.
The list of benefits of 3D maps for smart city planning is endless. Whether it is better telecom connectivity or healthcare, 3D maps can assist urban planners in understanding their site better to drive rewarding investments.
3D Maps for Smart Mobility
Usually, people live somewhere, work elsewhere, shop at a different place, do outdoor activities elsewhere, and so on. Almost everything people do has a location context–precisely, a 3D location context. Simply because we are 3D and we live in an aesthetically 3D world. Therefore, a 3D visualization of the city is essential to ensure smooth navigation and frictionless mobility across towns. 
With population densities increasing, a vehicle must ensure that the route planning is safe and transparent. With the help of 3D maps, mobility apps and companies can include precise details, such as junction views, road-accident updates, and more, to provide additional visual aid to the driver so that he can navigate accordingly.
Moreover, 3D maps don't just enable smooth navigation of vehicles but also enhance pedestrian navigation. These maps help achieve higher road safety and an in-depth understanding of alternative routes. Additionally, with the help of robust POI data, 3D maps can offer a better and more detailed view of the routes with information such as the nearest petrol pump and nearest service centers for drivers to always stay updated, even in emergencies.
Shortly, 3D maps will also be a backbone to support autonomous vehicles, realistic 3D environment models, and traffic scenarios. These applications will benefit industries like logistics, supply chains, cab-hailing services, and food aggregators. 
rfMap by Lepton Software help you make better-informed decisions regarding thoughtful city planning by creating digital replicas of the urban realms. Having mapped more than 20,000 cities across the globe, we are experts in 3D city mapping services. 
To sum up: 
As we move towards a more urbanized settlement of the world, the need for sustainable, intelligent city planning becomes imperative. With the emergence of 5G and the Internet of Things, it is possible to deploy technologies that protect the environment and promote long-term sustainability. 
In the past, infrastructure planning for cities used to be capital-intensive and long-term. Now, however, with a wise combination of traditional construction and innovative solutions, governments can respond tactfully to the changing demands of the population.
If you have questions or want to discover more about 3D Maps, don't hesitate to connect with us! Our team is always here to help and answer any queries you may have.
So, if you're prepared to take the next step and unlock your full potential, connect with us today or learn more about our product